The Art of Entertaining begins with the right details.  You have heard it said, the "Devil is in the Details" before… right?  Well with Entertainment, the difference from being Entertained, and being taken into an Experience all hinge with the correct details.  These details' training suggestions and tips will make any Wine Tasting Party a sure hit, and will alleviate any stress should this be your first Wine Tasting that you are hosting.
It is the careful attention to details that make a Dinner, a gathering, or any Occasion into "An Event".  And that is exactly what we are here to help you make happen.  Once you get going with this, it becomes almost addicting, as you will be a Social Star, and these Events will be a lot of fun for all who attend.
And that is exactly what we are here to share with you, as well as help you get set up for several "Event" moments throughout your Months ahead.
While many of us hold smaller tastings more frequently; there is a large possibility you will need to be aware of holding or contributing to larger tastings.  Below are several suggestions from Experience to help you with this process.  You will come off as a Pro from the very first one.  Keep them simple, fun, and social.  You want to have a Simple Game Plan.
Wine Tasting Preparation Tips:
Figure out the food situation. You shouldn't be eating during the wine tasting, other than the bread or crackers that will be needed to cleanse your palate. So, you should decide whether you want to give your guests a light meal before the tasting, serve dinner after the tasting, or serve appetizers or dessert after the tasting. Ideally, some sort of food should be provided so your guests don't get wine drunk without anything to absorb the alcohol.
You can tell your guests what the situation is when you invite them, so they know if they should come with a full stomach, or if they should prepare to eat.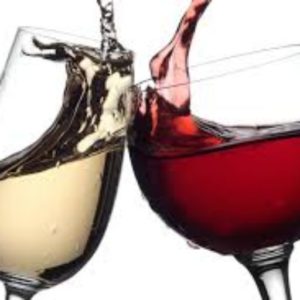 Get the right wine glasses. It's not realistic that you'll be able to give each of your guests a new wine glass before every new tasting. Realistically, just one glass per guest will do, or one longer, less oval-shaped glass for whites and a rounder, larger glass for reds.
The glasses should have stems so the guests don't warm the wine with their hands.  USE GLASS.  Do not use Paper or Plastic.  This is Fine Wine, and you do not want to do anything to take away from the Art of the wine with Paper or Plastic.  You can find these glasses everywhere (Wine is Very Common).  Walmart, Target, or even the Dollar Stores.  You want to have a few extra should additional guests arrive.  (This is very common with a Wine Tasting).
The glasses should be clear so the guests can see the color of the wine.
You should rinse out their Glasses in-between each tasting.  You should have someone be responsible for collecting the glasses after each Wine tasted.  To keep the flow moving along, you can do White First, then Red, then another White, then another Red, depending on how many you are Tasting.  You can rinse and dry (leaving no residue for the next tasting) in between Glass Uses.
Having them catered too is Entertaining, and will only add to the "Event".
Be prepared with enough Wine for your Guests. While you may be starting out, and gearing towards the amount of Wine you have, as you get going things should progress where this will not be an issue.  And should it be, you have an amazing savings on Additional Wines as an Elite Wine Lover with 40% off Case Pricing with your Membership.  As you progress, you should be enrolling Elite Wine Lover's and supporting them as they conduct their own Wine Tastings.
 While these are Suggestions, you will not be surprised when there is Nothing Left (literally every last drop will be gone).  Having your Guests Wanting for more is absolutely perfectly FINE.  They will shortly have their Initial Orders, and will be enjoying the Fine Wines monthly.  As you are enrolling them (after the initial tastings) into their own Direct Cellars Wine Membership, you can allow them to share in the remainder of the Wines.

2-4 Guests you will be great with One White and One Red.  (You can always open another once you have taken care of Business and their Memberships are Set).
4-8 Guests you will be great with One Bottle each of Two Different Whites, and One Bottle each of Two Different Reds.  Or you can use 2 Bottles each of One White and One Red.
8-12 Guests you will be great with One Bottle each of Three Different Whites, and One Bottle each of Three Different Reds.  Or you can use 2 Bottles each of of Two Different Whites and Two Different Reds.
12-20 Guests you will be wanting to have Two Bottles of each of Three Different Whites, and Two Bottles each of Three Different Reds.
Gather your supplies. There are a number of supplies you'll need to host a wine-tasting party in addition to the wine glasses. Here are some to get you started:
Obviously, you will have your Fine Wines from Direct Cellars.
A wine opener.  Be sure to have a back up as well.
An ice bucket for chilling white wine. This will keep you from running to the fridge.
A white tablecloth or white napkins. This will help your guests see the color profiles of the wines.
If Possible:  An aerator or decanter for the wine. This can help bring out the flavors in a red wine.
Bread or crackers to taste in between wines.
Cups of ice water for your guests as well as a pitcher of water for the table.
Invite your guests. The ideal number of guests you should invite to a wine tasting should be between 6-12 people. If you have a nice big dining room table, invite enough people so that they can comfortably stand around it. You don't want any extra people leaning over the group and making everyone feel uncomfortable. If you really want to be formal and fancy about it, you can send out nice invitations or e-vites.
Evite.Com – great service for online Invitations.  Connects with Social Media.
Invitations – through the Mail are Also Great.  They are "Old School" and Classic.  So is Wine.
Phone Calls, and Texts.  They do the job, and today seem socially acceptable.
Pick a good time. You can host a wine tasting party any time of the year. If you want to keep it thematic, though, you can taste white wines during the summer and taste red wines during the winter. Additionally, since you shouldn't really be eating during the tasting because it will ruin the flavor of the wine, so you should invite your guests over at around 4 PM, when they don't want dinner yet, or after they've eaten, at 9 PM or so, though that may be a little late.
The Wine Tasting Event:
Put everything out on the table.
Put your wines out on the table so the guests can see what they're going to taste and get even more excited for the night. If the table's not big enough, arrange the wines on a visible counter. Arrange the glasses, water, napkins, crackers, bread, and paper cups or spittoons for your guests.
Don't put out any flowers or scented candles. This strong aroma can make it more difficult to recognize the flavors of the wine. Opt for a bowl of grapes instead.
Master wine tasting techniques.
It doesn't take much to taste wine and look like an expert. Just tell your guests what they're going to drink, have them hold the glass and swirl it around for a few seconds to let the wine "breathe," and then make them smell the wine to get a better sense of the flavor. After that, your guests should take a small sip of the wine, swirl it around their mouths for several seconds, and then swallow it.  As we are not tasting more than 2, 4 or 6 wines at a time, there should be no need to worry about anyone getting carried away.
Start tasting the wine.
The order does matter when it comes to tasting wines. You should start from the lightest wine to the darkest, so work your way from a light white to a dark, flavorful red wine. You can go from the Whites to the Reds… but if you are using Crackers or Bread in-between you can alternate from Red to White just fine.  Add to the timing, but interjecting the Direct Cellars presentation during the Wine Tasting.  Just be sure to keep it Fun!  You can add to the Entertaining as follows.
Be sure to Read the Flavor Sheet provided with each Fine Wine from Direct Cellars.  This will not only give them the necessary information about the Wine, but will keep it simple.  Easy for anyone.
If you have Guests there that are Already in Direct Cellars, invite them to share their Successes and Stories ("Events with Wine") in between tastings.

Have them state:  Their Why?  Their Experience So Far?  And What They Are Striving For?

Share  Your Why?  And Go into your Successes and Directions you are Striving For.
After the 2nd Bottle of Wine (or thereafter if you are tasting several) go into the Different Levels of Membership, and explain the Benefits of getting Free Wine, and making a Part Time or even Full Time Income as a Direct Cellar Representative.
Be sure to let them know that you will gladly assist them in conducting a Wine Tasting Party of their own to help share the Fine Wines we have access to with Direct Cellars as well as to Launch and Build their business.
Give people time to take discuss.
Let people write down their impressions and give them time to think about it. People may be a little shy about their impressions because they don't feel like experts, so make sure to make them feel comfortable. Giving everyone a minute to think will also keep people from getting affected by the opinions of others. Here are some things to look for as you take notes:
Aromas and flavors. Any flavor or aroma that comes to mind should be written down, whether it's blackberry, honey, lemon, chocolate, pear, earth, or pomegranate.
Texture and weight. See if the wine is light and crisp, full-bodied, rough, or smooth.
Balance. Does the wine have a smooth mixture of flavors, or does one flavor, such as oak or tannins, dominate the beverage?
The finish. See if the wine lingers on your palate or if it disappears the second you swallow it. A good wine should linger.
Invite them to come see you 1 by 1.  
Allow them to get a glass of their Favorite Wine from the Tasting (while supplies last) as they sit with you and get enrolled with their Direct Cellar Membership.  Keep it Entertaining, and let them know while there is no obligation, be sure to cover the finer points of what we have with Direct Cellars.
New Fine Wines each and Every Month.  2 or 4 Bottles.  They can get all Reds, all Whites or 2 of each.
These are Fine Wines from Single Vineyard Wineries from all around the Globe.
These are Fine Wines that are only available through the Membership.  Not found local.
Explain that with our Memberships, we gain access to these Fine Wines that would Retail for 2 and 3 times the cost, at less than $20 a bottle.
Cover that this is an amazing Value, and as they can Taste, something that will add an Entertaining and Rewarding Event a couple times a month as they enjoy these Fine Wines.
 Be sure to explain that these are Wine Cellar quality Fine Wines, and that they will be learning about them with each and every shipment.  This is evident as you show, share and read from the Flavor Sheets for each of the Fine Wines.
We have a very rewarding Refer 3 and it is Free.  Giving them Free Wine each Month for just referring 3 others into the Direct Cellars Memberships.
Then explain the Benefits of the Opportunity.  Explain the Compensation Plan.  Explain the Team Building.  And Explain the Residuals.
Then explain how we build this through Entertaining with Wine Tasting Parties, and our Online Marketing Systems.
Serve food afterwards.
If you want to keep your guests at your place and to make sure they don't get completely drunk, then it's important to serve them some food. You can serve more dessert-style foods if it's the right time.  (If the guests are really hungry during the tasting, of course, then it's best to give them something to keep them happy and not too drunk than to wait.) It also gives you time to enroll everyone, and to answer or set up the future Wine Tastings.  This is the fun social part of the Entertaining Event as well.  Here is some food that goes well with fine wine:
Prosciutto wrapped around melon
Cheese
A light pear salad
Chocolate
Fruit compote
Flan
Breads and Crackers.  Light without spices or flavorings that would conflict with the Wine.
While we all know how to Open a Bottle of Wine with a Wine Opener, but here are some TIPS and information should you find yourself without a Proper Solution.
Need Help Opening a Bottle Of Wine?  GO HERE for some great suggestions and different methods.  Even some to use when you are in a PINCH, and find yourself without a Wine Opener.  Some of them may add to the Entertaining you will be sharing in as well.
Tips
If a cork is stubborn, while standing, hold the bottle between your knees and pull up on the corkscrew. This should give you extra leverage to remove the cork.
If you've got an older wine that's thrown a lot of sediment, you should keep it stored on its side, undisturbed, until ready to drink. When service time comes, carefully put it in a cradle that will hold it at an angle. Remove the cork with the bottle still at that angle (taking care not to spill the wine), and carefully decant.
If you don't want to mess around with knives and manual openers you can also get an electric wine opener which removes the cork all by itself.
We personally Recommend:  Ozeri Nouveaux II Electric Wine Opener in Black, with Foil Cutter, Wine Pourer and Stopper
  (It is currently at an Incredible Price – and it makes light work of opening several bottles.  You will easily get volunteers).
Other helpful directions and ideas can be found with having fun Hors d'oeuvres or Appetizers.
These are best served after the initial Wine Tasting and when everyone is enjoying the remaining Wines and getting connected with their Direct Cellars' Membership.  Because we have the amazing Opportunity with Direct Cellars to get Different Fine Wines each Month, it will be good to have an assortment of ideas and directions to go to make the Wine and Food Pairings divine.  Entertaining with Fine Wine and Fine Foods is always a Great Experience.  Enjoy It.  And to think… "We get paid for this???"